Referral Partner & Payor Resources
Homewatch CareGivers Strives to Make Healthcare Better
Healthcare is ever evolving. All providers and payors are encouraged to innovate. Let us work together to create an effective, coordinated continuum of care to meet new goals for cost-efficient, quality care and accessibility for patients. Homewatch CareGivers plays an essential role in that continuum.
Types of Services Provided in the Home Care Setting
Below is a breakdown of the types of services provided in the home care setting.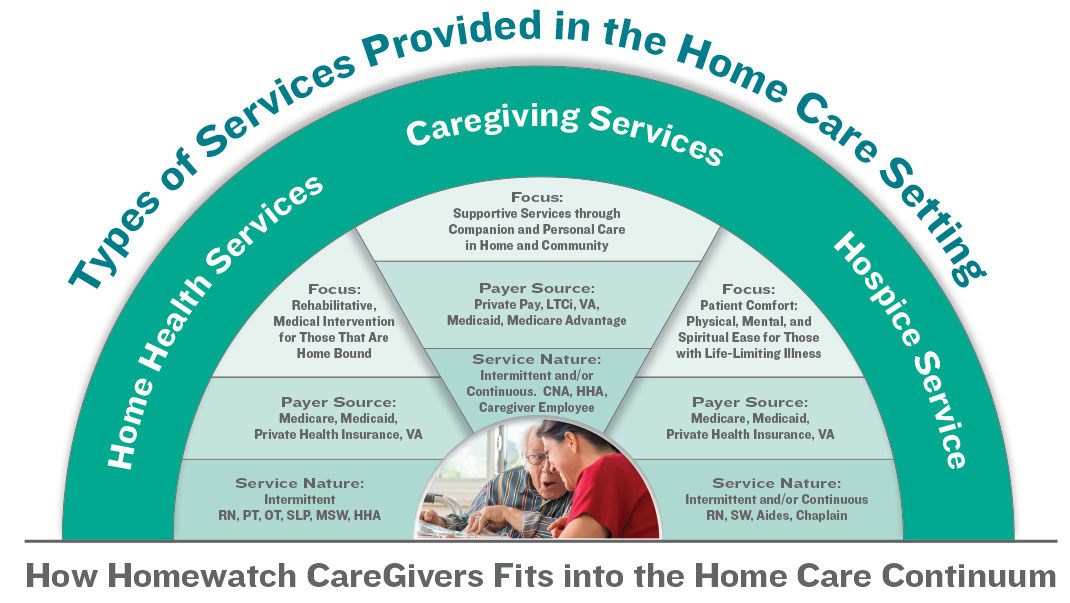 Home Health Services
Focus: Rehabilitative, medical intervention for those that are home bound
Payer Source: Medicare, Medicaid, private health insurance, VA
Service Nature: Intermittent RN, PT, OT, SLP, MSW, HHA
Caregiving Services
Focus: Supportive services through companion and personal care in home and community
Payer Source: Private Pay, LTCi, BA Medicaid, Medicare Advantage
Service Nature: Intermittent and/or continuous CNA, HHA, caregiver employee
Hospice Services
Focus: Patient comfort - physical, mental, and spiritual ease for those with life-limiting illness
Payer Source: Medicare, Medicaid, private health insurance, VA
Service Nature: Intermittent and/or continuous RN, SW, aides, chaplain